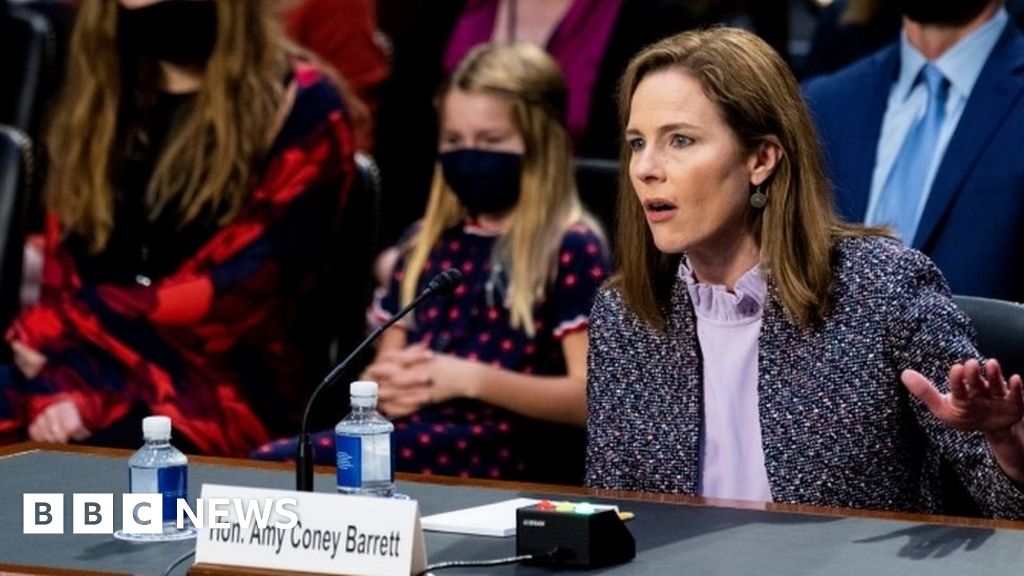 Donald Trump's nominee for the US Supreme Court is facing more tough questions in a Senate hearing, a day after sidestepping some key issues.
Amy Coney Barrett has insisted she will decide cases as they arrive and not apply a personal agenda.
Democrats on Tuesday failed to draw her on issues such as abortion, healthcare and LGBTQ rights.
Republicans are pressing to confirm her for the lifelong post before the 3 November election.
Judge Barrett is the proposed replacement for liberal Justice Ruth Bader Ginsburg, who died last month aged 87.
Her confirmation would give the nine-member court a 6-3 conservative majority, swinging the ideological balance of the court for potentially decades to come.
Wednesday is the third day of the hearing, being conducted by the Senate Judiciary Committee, and the second in which Judge Barrett has faced questions from senators.
What has happened so far on Wednesday?
Lindsey Graham, Republican chairman of the Senate Judiciary Committee, was happy to highlight Judge Barrett's views, saying: "This is the first time in American history that we've nominated a woman who is unashamedly pro-life and embraces her faith without apology."
Judge Barrett responded to one question by saying the 1973 Roe vs Wade ruling that recognised a woman's constitutional right to abortion did not constitute a "super-precedent" that cannot be revisited.
Democrat Dick Durbin said people were "fed up" with the Republican party's attempt to force through the nomination ahead of the election.
As well as fearing action on abortion rights, Democrats are concerned Judge Barrett could vote to strike down reforms providing health insurance to millions of Americans when the court hears a case against the public health insurance scheme next month.
Another key concern is whether she would be involved in any challenge by Mr Trump to the presidential election result. On Tuesday Judge Barrett declined to state if she would abstain from taking part in cases involving her nominee, the president.
On Wednesday, she agreed when Democrat Patrick Leahy said that no-one should be above the law but did not answer directly on presidential self-pardons.
In other comments by Judge Barrett so far:
She said she was broadly in favour of the "severability doctrine", whereby if one provision in a law is then deemed unlawful, Congress would in general want the rest of the statute to remain intact
She would keep an open mind on allowing cameras in the Supreme Court
Who is Amy Coney Barrett?
favoured by social conservatives due to record on issues like abortion and gay marriage
a devout Catholic but says her faith does not influence her legal opinion
is an originalist, which means interpreting US Constitution as authors intended, not moving with the times
lives in Indiana, has seven children including two adopted from Haiti
What's the confirmation process?
After the hearings end, any committee member can require an additional week before the formal panel vote on whether to present the nomination for confirmation before the full Senate.
If she passes the committee stage, the full Senate will vote to confirm or reject Judge Barrett's nomination. Republicans already appear to have the 51 votes needed to get Judge Barrett confirmed.
Senate majority leader Mitch McConnell has vowed to hold a confirmation vote before the presidential election.
Barring a surprise, Democrats seem to have few options to prevent her from gliding through the Senate to the Supreme Court bench. The remaining expected schedule is:
15 October: The "markup", otherwise known as internal debate, begins. Democrats may delay the process by a week, but Republicans may change rules to prevent this
22 October: The Judiciary Committee votes
23 October or later: The full Senate votes on Judge Barrett's confirmation
3 November: Election day
Battle over Supreme Court